ECO Data Recovery Pledges…
 

NO

 ridiculous/unsubstantiated Claims: "cheapest", "fastest", "best", "most recoveries", "most successful", "only company who can…", etc.
+

NO

 Scare Tactics, Hype,

OR

Trashing Competitors
MY HARD DRIVE HAS DIED, WHAT SHOULD I DO?
The first step is to immediately stop using the hard drive. Turn your computer off  to prevent any further damage. The less you try to use it, the better chance that we will be able to get all of your files back to you in working condition. 
Your best chance of getting your important files back is with ECO Data Recovery. We know what to do, how to do to it and will always do it using the latest technology in a safe and professional way. We will try much harder, spend more time and put in more effort than anybody else to ensure the best possible result.
DATA RECOVERY

SERVICES

|

RAID-PC-MAC-Laptop
Data Recovery Service | RAID PC MAC Laptop Flash From $275.00. ECO Data Recovery offers full service Hard Drive Data Recovery specializing in recovering data from Flash, PC, MAC, laptop, desktop, including RAID Server Hard Drives.
–
–
REQUEST AN ONLINE DATA RECOVERY QUOTE:

 Or Call 800-339-3412 / 561-691-0019
 for Immediate Data Recovery Help!
 

20 YEARS EXPERIENCE DATA

RECOVERY SERVICES



With over 20 years experience, ECO Data Recovery is  qualified to offer hard drive data recovery services for data loss.  Examples: power surges, outages, static electricity, lightning strikes, fires, floods, other natural disasters, viruses, equipment malfunctions, accidents, & user error.
ANY UNUSUAL SOUNDS?

Any unusual sounds from your hard drive?  Clicking or grinding generally indicates that the hard drive is on the verge of a severe mechanical failure, or 'hard drive crash'.
Once a drive has suffered from mechanical failure, the hard drive recovery will need to be performed via advanced invasive level data recovery techniques.
–
–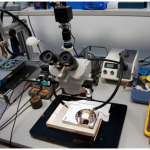 Data Recovery Services by ECO Data Recovery specializing in hard drive recovery from drives that will not spin, clicking or have simply failed due to old age.
–
–
DATA RECOVERY PRICES $275.00 UP
 We have said it over and over again, "It's bad enough that you need Data Recovery. You at least, should know the TOTAL COST UP FRONT with no surprises after you send your hard drive for Hard Drive Data Recovery".
.
.
.
REQUEST A DATA RECOVERY ONLINE QUOTE NOW!

OR CALL FOR IMMEDIATE QUOTE
800-339-3412 / 561-691-0019
–

 
 HARD DRIVE FAILURE SYMPTOMS?
In many cases, crashed hard drives can click, tick, become noisy or even stop spinning. This may require a complete disassembly, repair and rebuild in order to facilitate a successful hard drive recovery.
The data recovery process requires skill and expertise. Extensive experience and a complete understanding of the mechanics and functions of the latest larger capacity hard drives and older legacy hard disk drives.
–
–
SIGNS THAT YOUR HARD DRIVE HAS CRASHED:
(Or could soon crash!)
Hard Drive is running unusually slow.

Computer will not boot.
Computer will frequently reboot itself.
Files Disappearing.
S.M.A.R.T. Failure (Self-Monitoring, Analysis, and Reporting Technology).
Computer is operating extremely slow.
Error Messages:
"Operating System Not Found".
 "Windows Could not start because…".
"Drive is not Formatted".
 "Primary Drive or Device Not Found".
Mac Computers may also display a "Flashing     Question Mark" or hang on "Spinning Beach Ball".
 IMPORTANT: If your hard drive is making any unusual noises shut down your computer immediately.
REQUEST AN ONLINE DATA RECOVERY SERVICES QUOTE:

OR CALL 561-691-0019 / 800-339-3412
ECO Data Recovery providing professional Data Recovery Services for business and home users since 1995.
©1995-2017 ECO Data Recovery. All rights reserved.