Emergency Data Recovery Service
ECO Data Recovery offers very affordable Flat-Rate Pricing for standard Data Recovery Service, as well as Emergency Data Recovery Services.
Many times the loss of critical data can be devastating to you or your business. With most companies down-time means lost revenue. In these times lost revenue is simply not an option. In many cases, people will ask "But can I afford data recovery?" With Emergency Data Recovery Services by ECO Data Recovery you can!
We pride ourselves on providing professional service, with an emphasis on quality and customer service. If you happen to find yourself in a time sensitive situation and MUST have your data ASAP, our expedited service is for you.
With our emergency Hard Drive data recovery services, we will start your hard drive recovery immediately upon arrival of your hard drive.
Call 561-691-0019 / 1-800-339-3412

For Immediate Help!

OR REQUEST AN ONLINE QUOTE:
In most cases there's ONE chance to recover your data…
Trust the professionals at ECO Data Recovery!
Damaged Hard Drive Recovery
When time is critical, you can count on Emergency Data Recovery Services by ECO Data Recovery. ECO will pull through for you in your time of need and get your data back. ECO Data Recovery will get your business back up and running as soon as possible.

(We have actually had mechanically failed hard drives delivered to our lab in the morning, and shipped out successfully recovered the very same day)

.
ECO Data Recovery offers an extremely reasonable Expedited Emergency Data Recovery Services for TIME SENSITIVE SITUATIONS.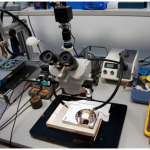 With our expedited service, we will begin your hard drive recovery immediately upon arrival. Your hard drive will completely bypass the lab queue and go directly to an engineer's bench.
Turn around time for Emergency Data Recovery averages 1 to 4 business days for single hard drives. Our standard service generally averages 4 to 8 business days and is basically a 'first in, first out' lab queue.
Request an Online Quote:

OR CALL FOR IMMEDIATE QUOTE: 800-339-3412 / 561-691-0019.
A Recovery Consultant can be reached after hours by telephone at the following numbers:
.561-313-4711
(After Hours Phones Live up to 9:00pm EST).
.
If assistance needed after 9:00pm EST please use our ONLINE QUOTE FORM and be sure to mark YES in the"Emergency Service" field and your quote will be our first priority.
ECO Data Recovery providing professional Data Recovery Services for business and home users since 1995.